A Nice Place to Live
Detroit, founded in 1701, had a population of almost two million people in the 1950s. It was (and is) home to the American auto industry which, over the years of the 20th century, provided thousands of good-paying jobs. Detroit's factories built airplanes and vital equipment during World War II. In the years that followed, as the auto industry prospered, families filled city neighborhoods, enjoying excellent schools, beautiful parks and recreation centers, good shopping along main thoroughfares, churches of all denominations and architectural types and, of course, the waterfront and Belle Isle, all elements that made it a nice place to live.
1967 Riot and Depopulation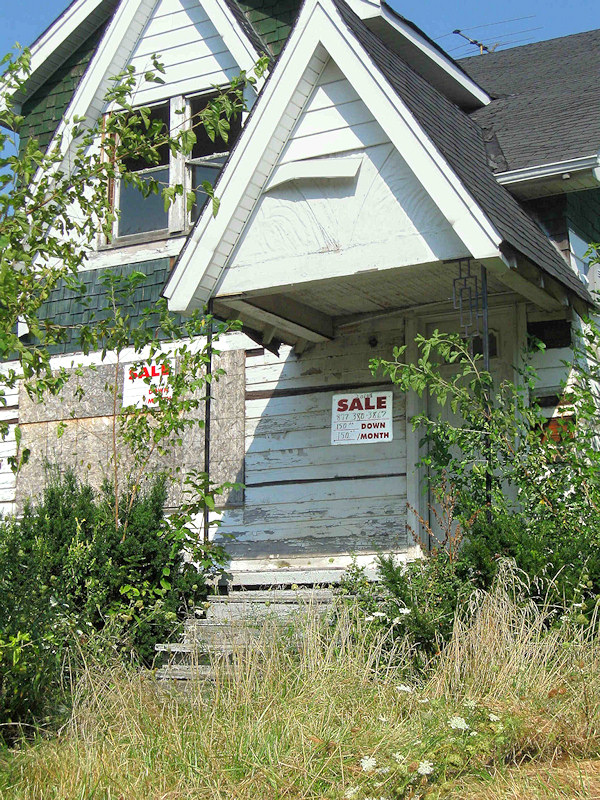 Detroit had been a racially segregated city (see my page, Detroit's Segregation Past). In 1967, the city erupted into violence, sparked by an incident in which the mostly white police department raided an illegal after-hours drinking place and began arresting the black patrons. (See my own personal account of living through the riot). Continued discord between police and citizens, white and black struggling for control of city government, caused many to leave for the sprawling suburbs. The exodus continued as jobs began to move out as well and city neighborhoods declined. Today much of Detroit is empty land or tracts of abandoned homes. The 2010 census showed that Detroit's population has slipped below 700,000. Yes, white people have left in large numbers, but so have black people. In the decade from 2000 to 2010, census records show that 180,000 African-Americans moved out of Detroit.
Depopulation is a major reason there are so many abandoned homes. As people move out, there is no one to take their place and houses become surplus. Many home owners simply walk away from their homes, unable to sell them and not wanting to continue living on a street full of trashed houses and/or empty lots. Most end up lost to tax foreclosure and go on the city's rolls as another city-owned abandoned house. In 2013, the federal government made available to the state of Michigan a grant for $100 million to be used to clean up blighted property, with Detroit getting a big chunk of that money. Detroit's then Mayor Dave Bing planned to demolish 10,000 abandoned houses by the end of 2013.
New Mayor, New Ideas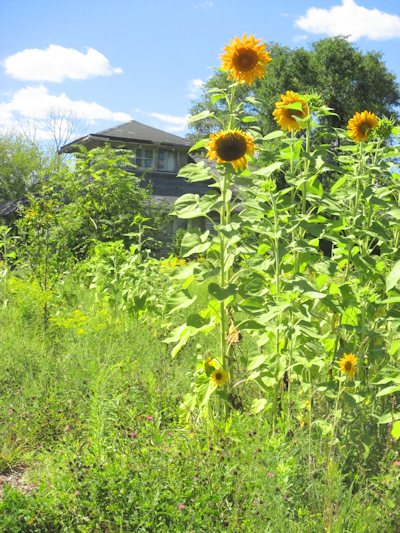 In late 2013, Detroit elected a new mayor, Mike Duggan, who became the first white man to serve as Mayor of Detroit since Roman S. Gribbs left office in 1974. Duggan took office in January, 2014 without the power to actually run the city because Detroit had filed for bankruptcy and the city had been placed by Michigan Governor Rick Snyder under the management of a state-apponted Emergency Manager. However, Duggan had lots of ideas for resurrecting the City of Detroit. Not all of them were about demolishing houses.
Duggan believed there were people who would want to live in the city, in a house they could buy cheaply — very cheaply. First, he needed to obtain the legal ability to seize houses quickly after abandonment, before the vandals could trash them. Then he needed to find the people who would live in those still-useful (and sometimes beautiful!) houses. Selling these empty houses at a low price would provide much greater returns then letting them go to strippers and vandals, then burdening the city with the cost of demolishing them. He also planned a program to let people buy any vacant lots adjacent to their own lot for little money and no bureaucratic red tape.
Duggan put a new team in place and the city administration began working on ways to bring population back to the city. Detroit exited bankruptcy in late 2014 and, with the Emergency Manager finally gone, the Duggan adminstration has been working hard to get the city back to prosperity.
Many houses and other buildings have been torn down. The city is strewn with empty land, but vacant houses still mar many streets. Removal of dangerous buildings and improvements in city services has given many residents new hope that the city can come back. More Detroit residents are participating in city programs (and paying their taxes) to heal their neighborhoods.
BUY A HOUSE IN DETROIT Want to buy an abandoned house in Detroit? Check out the city's website with listings and photos of city-owned houses you can buy at bargain prices. These houses need work, and there are requirements for fixing them up and having them occupied, but these auctions represent opportunity for those who see their real value as beautiful homes.
Amazing Sights!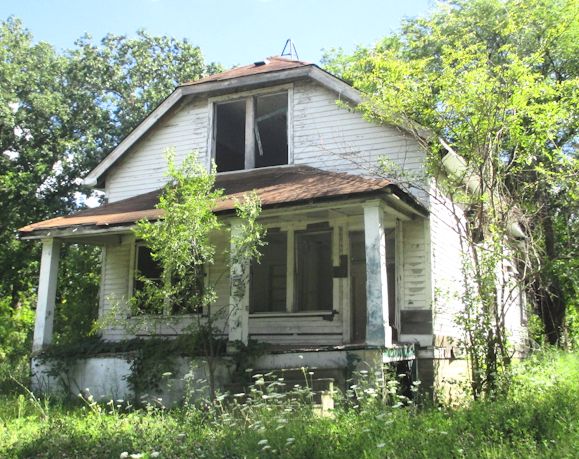 Over the worst years of abandonment (2008 to 2012), my husband David and I spent many days traveling the byways of the city, taking photos. We have hundreds (maybe thousands) of pictures of abandoned houses and other abandoned sites (including factories, commercial buldings, churches, storefronts, high rise housing projects, gas stations and just about any kind iof building). Seeing these dead structures is both sad and fascinating. Sometimes ruins can be beautiful in their own way. Visiting an abandoned house raises the question of who lived there and why did they leave? So many of these houses are really remarkable, well-built with lovely architectural features. Abandonment on this scale is a phenomenon unlike any other, and this was a chance to see it.
It is already changing as derelict structures fall to the wrecking ball. There is evidnce that people actually ARE moving into the city and actually ARE buying abandoned buildings to rehab to live in or to open a business. In urban decay, some see opportunity. A new chapter begins in Detroit's history.