photos by
Theresa Welsh
Take a Drive Through The D
If you come to Detroit, take a drive through its main thoroughfares and its neighborhoods. You will see many buildings that are standing open, windows broken out, siding or bricks stripped, and personal belongings spilling out onto porches, driveways, sidewalks and streets. Piles of old tires are dumped in the empty lots, along with broken furniture and the remains of lives once lived in these spaces. Detroit is being abandoned, block by block, building by building.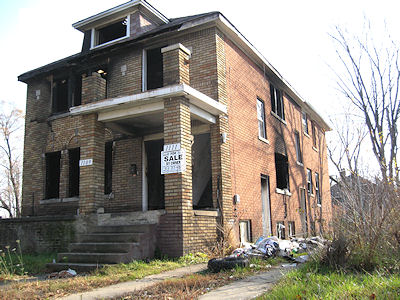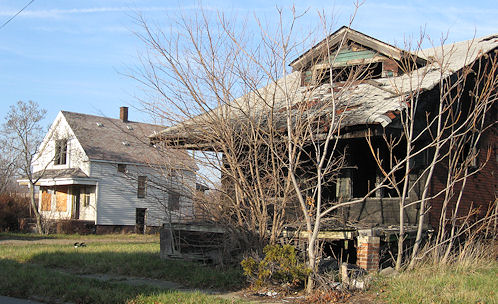 See over 300 photos of abandoned houses at my Flickr page.
Abandoned Shopping Center

---

Abandoned Churches

See photos of St Rita Catholic Church and school, one of many Catholic parishes to close in Detroit.

---

Abandoned Factories

The Abandoned Packard Plant. See more photos of the packard plant.




The Abandoned Fisher Body Plant. See more photos of Fisher Body.

---

Abandoned Commercial Buildings

This building, with its lovely architectural elements, is at Fenkell and Livernois on the West Side

---




Abandoned Boats?

We've noticed as we tour Detroit neighborhoods that lots of people have boats in their yard or in the abandoned lots. Here are two abandoned boats that turned up in a North Side neighborhood.
---