---



Visit Detroit's fabulous Packard Plant via this illustrated ebook.

The World's Largest Industrial Ruin

Thousands of skilled workers once designed and built luxurious cars at a 40-acre site on Detroit's near East Side. The Packard Motor Car Company, founded in 1899, deisgned and built cars here until 1956. The buildings survived as rental space, but ultimately became Detroit's most notorious urban ruin. A favorite of graffiti artists, photographers, urban explorers and people wanting to be photographed there, the Packard plant is a modern ruin that echoes the great ruins of antiquity in its size and grandeur.

The Packard Plant Revealed!

Over 230 captioned photos taken from 2009 to 2014

Maps and commentary

AVAILABLE as an ebook for $6.95 from Amazon.com and Google Play.
---
by

Theresa Welsh

About Packard

The Packard Motor Car Company operated in the first half of the Twentieth Century, building luxury vehicles that set the standard for excellence in styling and engineering. The models from the 1930s featured lots of chrome, use of wood and leather, shiny hood ornaments and emblems... possibly the most elegant vehicles on the road at the time. The engines came in 12, 10, and 8 cylinder models.

The company was founded in Ohio in 1899, but moved to the Motor City in 1903 where the huge complex of Albert Kahn-designed buildings became a fixture on East Grand Boulevard. Employing as many as 40,000 workers, the Packard plant built airplane engines during World War II in the city known as the "Arsenal of Democracy" for its wartime production.

The Packard site is 3.5 million square feet, a large complex of buildings inside the city of Detroit, encompassing numerous structures. All Packard cars were designed and built on this site which included the company headquarters and executive offices. The company vacated the site in 1956 and was out of business in 1958, a victim of industry consolidation and ever-changing public taste.
Restored Packard models show the elegant details
of this made-in-Detroit brand.
The Abandoned Packard Plant
Post-Packard History of the Site When Packard went out of business, a former company manager became the building's owner and rented out space to a variety of clients. Some of the buildings were rented for retail businesses or industrial uses, but a dispute over ownership in the late 1990s and unpaid taxes left the site open to scrappers who strip out the metals and other parts of abandoned buildings they can sell for profit, and to arsonists who torch the empty buildings for fun. Other people used it as a dumping site, leaving huge piles of old tires, bags filled with trash, furniture and household items and even toys and clothing, strewn about the site. Urban explorers also discovered the site, and graffiti artists have left their work, both amazing and banal, on its walls and columns. Explorers, photographers, artists and other curious visitors found they could walk inside through missing doors or collapsed walls and enjoy the vast interiors, full of out-of-place items and colorful creations painted on walls, floors and concrete columns.
People began holding parties and ad hoc events on the site and just coming to be photographed with the ruins in the background. Some brought elaborate equipment for shooting videos or stills and others were satisfied with selfies, showing the ruins behind them. The Packard plant had acheived a kind of fame as a place to visit, without any efforts on the part of professional marketers, nor was anyone making any money off these visits. Like the Heidelberg Project (see my page on Detroit's Heidelberg Project), the Packard plant became famous without any traditional kinds of promotion as a tourist attraction.
Beautiful Architecture, Innovative Design and Materials These are not just any industrial ruins, but the work of famous architect Albert Kahn, who created a place both functional and beautiful for the Packard Motor Car Company. These were probably the first factory buildings made of reinforced concrete, multi-story buildings holding heavy equipment. You can see the iron rebar in the collapsed portions, and the attractive brickwork in the exteriors of the main buildings. The factory buildings had floor to ceiling windows that let in fresh air and light. Inside these buildings, magnificent automobiles came to life.
Weird Auction, New Owner The Packard plant's life as an industrial ruin has had some bizarre twists and turns, but may be coming to an end soon. In late 2013, it was purchased at a county auction by the number three bidder after both the first and second bidders failed to produce the money they had bid. The buyer was a foreign developer, Fernando Palazuelo, who had been working on a downtown project in Lima Peru. His bid was only $405,000, or less than 15 cents per square foot. What will he do with this iconic urban ruin? He has said he will redevelop it for multiple uses: residential, retail, office, light industry, recreation and art, making use of some of the structures and recognizing its historical significance.
Detroit supporters may have mixed feelings about the coming of an actual committed owner for the site. As of Spring, 2014, the site is patrolled, although it is far from being secured. Palazuelo is not likely to want people wandering about the site as they have been doing for so many years. However, Palazuelo has said he would like to preserve parts of the structures and has pledged to actually LIVE on the premises as soon as he can build a livable space for himself. So it appears that Fernando Palazuelo will be the author of a new chapter in the life of Detroit's Packard plant, marking the end of its life as a fabulous ruin and an urban explorer favorite.
PHOTOS
---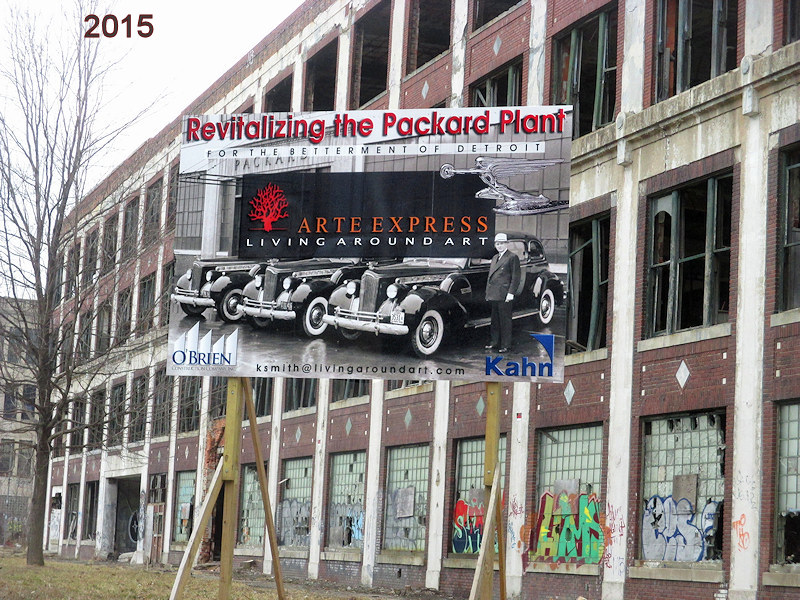 All photos are copyright © 2013, 2014, 2015 by Theresa Welsh and David Welsh. All rights reserved.
---
The Seeker Books Home Page More Detroit photos at