by

Theresa Welsh
---
Detroit is full of empty places that used to be neighborhoods. Where once people lived in modest houses built close together, now there are wrecked houses and vacant lots. By the city's own count, Detroit has around 30,000 abandoned houses! The number of buildings that are vacant is even higher. Mayor Dave Bing, appearing on a local TV show on March 7, 2010, stated that the city had 70,000 buildings that should be taken down and he was looking for federal money to pay for the demolition costs. Since then, Detroit has elected a new mayor, Mike Duggan, who has been a strong advocate for using the power of local government to seize abandoned buildings and quickly finding buyers or removing those that can't be reclaimed.
Detroit's problem is compounded by the city's large geographical size: 143 square miles, an area so large you could fit Manhatten, Boston, and San Francisco within its border and still have room to spare. Houses still standing are often surrounded by vacant lots, reflecting the large number of houses that have already been demolished. I read somewhere that Detroit has more demolition companies than any other big city. One estimate stated there are already over 100,000 vacant lots, but demolishing more will mean there will be even more, a city with acres and acres of empty land.
ABANDONED HOUSES, EMPTY FIELDS SO CLOSE TO THE SUBURBS
My husband David and I have been touring different parts of the city and we've seen many empty areas, where there are few if any houses left. What is most startling to us as we've driven all over the city is that the abandonment seems to be everywhere... East Side, West Side, All Around the Town. When I first came to Detroit back in the 1960s, people used to talk about "the inner city" as being an area of poverty and blight, but now the devastation is all over, including neighborhoods just a stone's throw from the suburbs.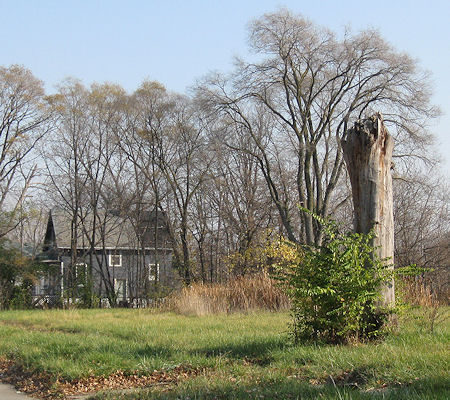 CHALDEAN TOWN
David and I live in Ferndale, just across Eight Mile Road, the dividing line between Detroit and its northern Oakland County suburbs. A neighborhood where we lived in 1968, located just north of Seven Mile Road, is now mostly empty fields and abandoned homes. Some of the fields have turned marshy, with tall reeds growing up from the spongy ground. I observed birds that appeared to be pheasants living there. When people move out, nature makes a comeback and this area may become the wetland it apparently once was.
This is a neighborhood that increasingly consists of vacant lots. Some streets have no occupied homes, only abandoned houses and empty fields. Yet, on one street in the area, new homes were built in recent years and they appear to be fully occupied. This is a very small oasis of normality in a bizarre setting.
This desolate area, shown on maps of Detroit as "Chadean Town" because it was once home to many Chaldeans, is just a few miles from our current home in suburban Ferndale.
More pictures of this area at Abandoned Detroit.
TELEGRAPH-FENKELL
In another neighborhood on the far West Side, bordering Telegraph Rd, the boundary between Detroit and its western suburbs, are streets full of newer homes that are boarded up or standing open, their interiors vandalized and some brick homes had their bricks partially stripped off. There are also many vacant lots and crumbling sidewalks.

This area is just north of Eliza Howell Park, a lovely green area with a creek flowing through it, but no longer maintained by the city, its roads closed to cars. We parked next to the cement barriers that now keep cars out and walked through the park on a cool fall day, noting broken picnic tables, and trash along the edges of the stream. But the road meandered through some lovely meadows bright with fall color and the flowing creek with its twisted, vine-covered trees was lovely.

In the area around the park, there are some streets with nicer, occupied homes, but there are also large tracts of devastation, only a few block from the suburbs.
ETHNIC NEIGHBORHOODS NOW GONE




POLETOWN EAST
Detroit once had many ethnic areas, with a large Polish population. But one neighborhood called Poletown was torn down in the 1980s to expand an old Chrysler factory into a General Motors factory (the Detroit-Hamtramck Assembly Plant) and an adjacent neighborhood, called Poletown East, is now full of vacant lots and vandalized houses. The former St. Stanislaus Church on Debois St (at Medbury) is in decrepit condition and has been taken over by a new non-Catholic congregation calling itself "The Promise Land Church." This is part of the Catholic Church's general disinvestment in Detroit. The former convent and rectory remain, but in a state of obvious neglect. The church building shows signs of deterioration, but its basic beauty is still evident, with twin spires rising high and columns flanking the stone stairs leading to the main entrance.

I try to imagine the neighborhood that must have once existed here and been home to parishioners, who could see the church spires from their homes. Surprisingly, the old Catholic school is again an operating school, now called the Detroit Academy of Arts & Sciences, with a playground full of noisy kids on the day we visited. A new gymnasium has been built next to it. Some of the old Catholic properties have been put back in use by new owners.
There are a scattering of occupied homes in this formerly thriving neighborhood. Dubois street and St Aubin street, which runs parallel, have few occupied homes. We came across a large building that had been a two-family house (top and bottom) with a For Sale sign. According to the sign, you could buy it for $750 down and $300/month. The only problem is that vandals had stripped off most of the aluminum siding and left the place looking really bad, as you can see from these photos. It wasn't clear that vandals had penetrated the inside, but it seems doubtful that there will be any takers for this place.

If you lived here, you'd have few neighbors, as the area is mostly vacant lots. St Aubin St. has industrial buildings that sit alongside the Chrysler Freeway, and some of these appear to be active businesses. It is the residential areas that have been emptied.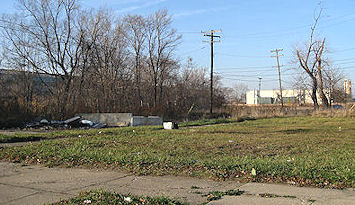 Even more desolate is an old Slavic area on the near East Side, once home to the beautiful St Cyril Church and school. The neighborhood was once called St Cyril Village, but today it consists of totally empty blocks, with almost no standing houses. There's still a "St. Cyril Street" meandering in a crescent shape off Van Dyke Ave north of the Ford Freeway, but the church for which it was named is no more. The church was demolished in 2003. Some of the former streets in this area are blocked off while the city tries to find a new use for the land. The Catholic Church has demolished or sold many of its former properties in the city, as parishioners have left.
WEST OF CITY AIRPORT
Just west of Coleman Young Airport ("City Airport") is an area of streets that have almost no houses. We drove by here one day to find one street, bordered by overgrown fields, littered with trash bags bursting open and spilling forth all kinds of household goods: books, toys, clothes, dishes, etc. This stuff was just lying all over the street. We got out and took pictures and I scavenged a few useful items. All over the city, we've seen piles of household stuff spilling out of trash bags or just heaped carelessly along the sidewalk or next to an abandoned house. Inside the ghost houses is more stuff, the remains of peoples' lives. Houses without people, but still full of the stuff they left behind.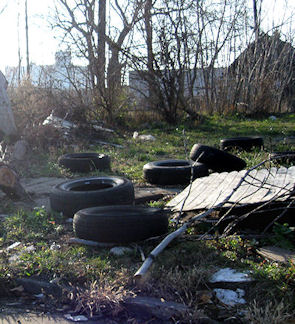 And just where do all those old tires come from? Everywhere we've gone in these empty areas we have found heaps of old tires. People are using these abandoned places as dumps and the city does not have the resources to stop it. But I have to wonder: How can there be this many old tires and who is doing the dumping? Tires, trash, household goods that have been dumped or abandoned -- all kinds of evidence of a formerly occupied place that now has no purpose.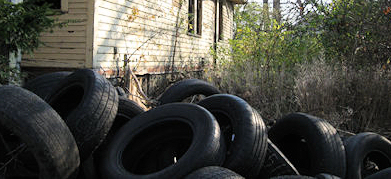 We've made many tours to see places we once knew and places where we once lived and have found this kind of emptiness and abandonment (and lots and lots of tires) almost everywhere.








DELRAY
In the extreme southwest part of the city, bordering the Detroit River, is an old Hungarian neighborhood called DelRay. We once lived in an apartment above a storefront here (in the blue building, shown in the photo), but the building is now vacant and many of the houses that once existed here are gone. We even found a section that was closed off to cars, apparently totally without any commercial establishment or residents. This area was in serious decline even in the late 1960s when we lived here, but there was still some Hungarian presence. I once took Hungarian language lessons at a church up the street from our apartment. That church, like so many other Catholic churches, has been passed on to another congregation.

The city has closed off some areas (that we have seen), probably so they don't have to maintain roads and utilities, including sections of Delray. Mayor Dave Bing says he plans to "shrink the city" via removing remaining residents from some of the desolate areas. DelRay had a bad pollution problem when we lived there due to a cement company and a soap company, among other local industries. It is also near the bridge to Zug Island, which has heavy industrial activity. It has long been considered an undesirable place to live.

Redevelopment?

Some formerly closed-off parts of the city are being redeveloped. Along the Southfield Freeway at Tireman St. is a very large parcel of land that was once the Herman Gardens public housing project. During the years I drove this freeway to work each day, I watched as Herman Gardens was vacated, then torn down. Nature seemed to be reclaiming the fenced-off land. Today, it is being redeveloped with public and private financing as Gardenview Estates. Townhomes and apartments are already built on parts of this huge empty parcel of land. With so much usable housing sitting empty in the city, does it make sense to build more housing? If you build it, will they come?






A HEALTHY EXCEPTION: HISPANIC DETROIT



A notable exception to this pattern of abandonment is our old neighborhood in the Vernor-Springwells area. The southwest part of Detroit had a large Hispanic population when we lived there (we moved away in 1987), and our old neighborhood has now acquired a completely Hispanic character. The commercial strip (Vernor Hwy) is healthy and full of great Mexican restaurants. The housing stock is old but mostly occupied and maintained.

Visiting this neighborhood with its colorful murals and Hispanic shops was exciting; finally, we were seeing a real neighborhood, with people strolling the sidewalks and real businesses they could visit... a nice change from empty fields and falling-down buildings. This neighborhood has actual restaurants and fast food places where you can make a bathroom stop and have some coffee. Detroit has few viable commercial streets that offer inviting cafes, gas stations, or stores where you can buy batteries if your digital camera quits. Southwest Detroit is a delightful change from abandoned Detroit!

A UNIQUE CITY

Why tour urban ruins? Here's one reason: a city this devastated is a phenomenon that you have to see to believe. Many of the ruins are visually interesting. The abandoned auto factories have a beauty about them, and many of the buildings that stand empty, with gaping storefronts and stairways to nowhere, show vestiges of former glory. The city also has an interesting history, having been founded in 1701 as a French city, then becoming British and finally part of a new nation, the United States of America. It was the first important city west of the original colonies. Once upon a time, canoes with indians and fur trappers plied the Detroit river, making regular trips across to the forts and farms which were found along the shores on both sides. Today, you need a passport to cross over the river; on that side, they remained French and British; today, it's Windsor, Canada.

You can find pieces of this early history in Detroit if you look. In the city's oldest church, Ste. Anne, you can still find the French fleur de lis. Yes, this church is still standing! The city has a long heritage in automobiles and music, and you'll find numerous landmark places - mostly more abandoned buildings - where auto pioneers built famous vehicle brands like Packard, Cadillac, and the Ford Model T. The musical heritage spans the era of the blues performed by musical icons like John Lee Hooker in what was once a thriving black neighborhood on the near East Side to the Motown sound, with the original studio where the likes of Smokey Robinson and the Supremes cut their hit records, now a fabulous museum. In more recent times, there's electronic music born in Detroit. We've seen lots of Detroit over the forty-some years we've been here, but there's always something new to discover.

David and I both came to Detroit (me from Flint, he from Grand Rapids) to attend Wayne State University. I graduated in 1968 and wanted to stay. I liked the city, loved its beautiful old buildings and outstanding architecture. I've stayed here all the way to retirement age and I still find the city a fascinating place and I can't help but wonder what will happen to it. Why has it been abandoned? Where did all the people go? What is life like for those who remain in Detroit, living in the only occupied house on a block? What can be done with all that empty land within the city limits?

Here's MORE maps and photos of Detroit's abandoned neighborhoods.

A collection of abandoned houses throughout the city

More Books About Detroit

Photos by Theresa Welsh and David Welsh

More photos at Flickr.

Six Things You May Not Have Known About Detroit

Detroit was first a French city, founded in 1701 by hearty French settlers who gave their names to many streets in Detroit (Joseph Campau, Beaubien, Livernois, Rivard, etc.). These mainly reflected the names of settlers owning "ribbon farms" that extended outward from the Detroit river in narrow strips; the farm boundaries later became streets.
Detroit is the only American city to have been surrendered to, then occupied by, a foreign power. This happened during the War of 1812 when Governor William Hull surrendered the city without a fight to the British. Hull was later court martialed and sentenced to be hanged for cowardice, but President Madison pardoned him since he had served honorably in the Revolutionary War.
The Davison Freeway, built in 1942, was the first freeway in the US. It had originally been an ordinary street, but was widened and rebuilt as a fast cross-town connector, going under Woodward Avenue and connecting the West Side with the East Side. It became the first freeway project to displace neighborhoods as houses were taken out to accommodate the new superhighway.
Detroiters have long wondered why we have a street named "John R." This street is named for John R. Williams, the first mayor of Detroit, elected in 1824.
Woodward Avenue was the first street in the US to be paved with concrete.
Detroit had excellent public transportation in the first half of the 20th century, with street car tracks running along all major thoroughfares, but today has the worst public transportation of any major American city. The last streetcar was taken out in 1956 and all of Detroit's street cars were sold to Mexico City.

---

MORE ABOUT DETROIT

See all my Detroit Web Pages

Read my reviews of books about Detroit:

Read my reviews of books about Detroit:

Find more Books About Detroit at amazon.com.

Detroit's Spectacular Ruin: The Packard Plant

Detroit's Most Spectacular Ruin!
240 Captioned Photos

eBook for Kindle and Other eReaders

Only $6.95

BUY FROM:

A Guide to Post-Industrial Detroit: Unconventional Tours of an Urban Landscape

Theresa's Guide to Exploring Detroit





eBook for Kindle and Other eReaders

Only $6.95

---