My College Job
When I was a student in the 1960s at Wayne State University, I got a job as a caseworker with the Dept. of Social Services/State of Michigan. I was an ADC worker, given a caseload of people on public assistance, and I was assigned a "zone" in an area just west of the college campus. I did not have a car, so I walked to my zone to visit the clients in my case load. This was acutally most of the people who lived in this area, as most of them were on some type of public assistance. In those days, women with children could collect an ADC grant until their last child turned 18. These were the days of public outrage against "welfare" and all those "lazy welfare Moms who don't want to work," "welfare queens" and other insulting references to persons receiving public assistance. The policy of allowing a welfare grant until the last child turned 18 was a holdover from an earlier era when it was felt that mothers should be at home. I think some of the anger about welfare had to do with the changing mores in society, with more and more women in the workforce, including many with small children. Policy shifted from supporting single Moms with money grants to encouraging them to get jobs.
[For those who don't know, "ADC" was "Aid to Dependent Children," a state program that provided a monthly money grant to unemployed parents.]
My Caseload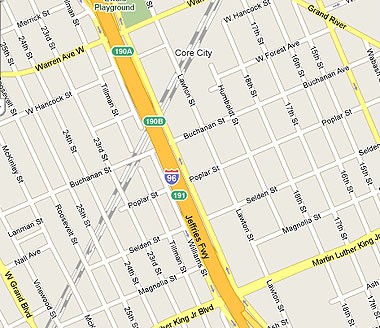 The women I had on my caseload were all black, many from the South. Some were illiterate and signed their name with an "X" under which we would write "Her Mark." It was a long walk to my zone through a not too nice area, but I was seldom bothered by anyone, and once I got to my zone, I became known as the local ADC worker (the giver of money) and this probably kept me safe as I walked the area. The streets south of Warren avenue were residential, with older wood frame homes, some two-family homes. Some of the families I visited had well-kept homes, but others were shabby places with few creature comforts.

I was so young - early twenties - and I really had no idea how terrible it would be to be as poor as some of these people. I was always treated with politeness and people answered my questions, which were quite nosy. I had to know about the "alleged fathers" (also called the "AF") of their children so we could try and collect child support from them. I can't remember anyone who was actually married to any of the fathers. I remember how shocked I felt at the level of illegitimacy in this neighborhood; this was a whole new world to me after my Catholic school upbringing. Looking back, I'm sure I was pretty insensitive at times with my questions. I was not yet myself a mother and I could not really imagine how it would feel to have children and no way to take care of them.

.

Some of the women had really inspirational stories. I had several who were taking classes to learn how to read. One woman told me she was ashamed of being unable to help her children in school. Many had been born down south and some told me they had never gone beyond the third grade because they had to work in the cotton fields. I had one man on my caseload who had an ADC grant (all the others were women). He was a single father. I felt he was cheating and earning money he did not report because sometimes when I visited him he would be wearing paint-splattered clothes. I figured he was doing some painting work and should be reporting his income, but I said nothing. I felt sorry for these people who had to live on the small amount of money they got and it was a good and amazing thing that this man was trying to take care of his children. That was an incredible rarity, as most of the AFs did not pay anything.
Coming Back to My ADC Zone
So now, over 40 years later, David and I drove to my old ADC zone as part of our project to visit and photograph parts of Detroit. We drove from Wayne State along Warren Ave and, as we crossed over the Jeffries Freeway, I realized that it had not been there when I was working as an ADC worker. That would have been about 1965 and the Jeffries Fwy was built later. My old ADC zone had been made smaller.
But when we finally turned off Warren onto a side street, I was aghast at what I was seeing. Yes, we'd seen the empty lots and abandoned houses in other areas, but this was really like going into some rural country area. There were whole blocks with no houses, just weeds and emptiness and sometimes the remains of structures. Even streets that had a house here or there held only deserted, falling-down places.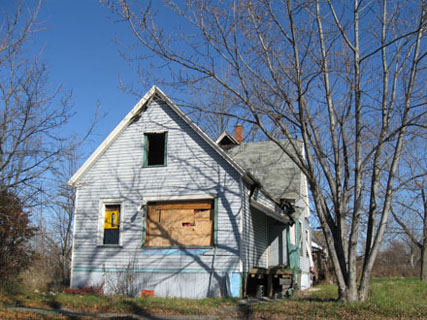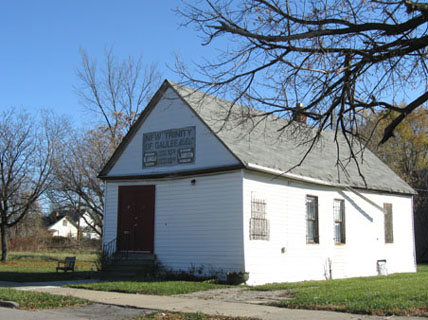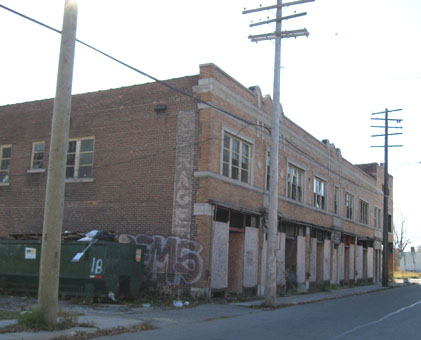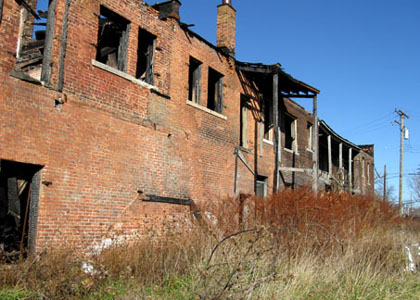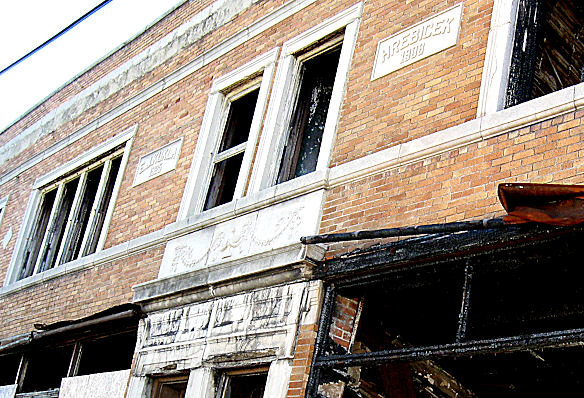 On the corner of 24th St and Buchanan St, there was a commercial building that was falling apart. This type of building, with small storefronts and upstairs apartments, usually had a name and sometimes a date in a stone block under an entrance to a stairway going upstairs. This one had two incised blocks on either side of the doorway; one said "Hrebicek, 1908" and the other said "Kukla, 1929." You had to wonder what this place looked like one hundred years ago when someone named Hrebicek had apparently built it.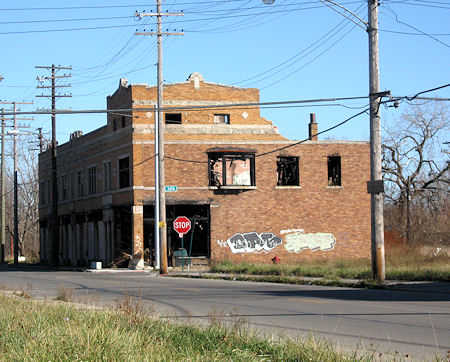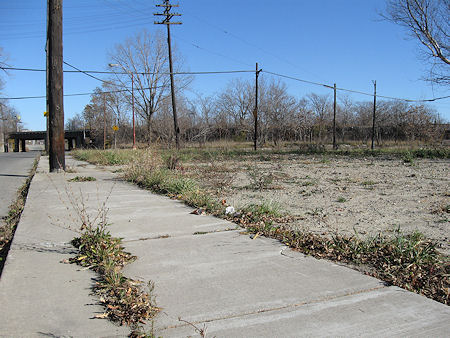 A man came by as were were taking pictures and he began complaining to us about water running in the abandoned building. We did not see or hear any water running, so we weren't sure what he was talking about. Another man came by and talked to us too. He didn't know about running water in the building and ruminated about the building maybe being fixed, but it was apparent that this place was beyond repair. He left us, saying "the city will rise again." That man was obviously an optimist.
From Urban Decay to Peaceful Countryside
We drove east under the railroad viaduct and found an area where a school called the Catherine Ferguson Academy had planted a huge garden next to a barn and standing by the barn was a horse. I later learned this is a school for pregnant girls where they teach urban farming. With this bucolic scenery, we could have been out in the country. When this area was teeming with people (mostly poor black people), it could be a bit scary at times, as you didn't know what might be around the corner or who might pop out from an alley. But no more. Just peaceful country, with birds chirping amid the trees and rogue plants.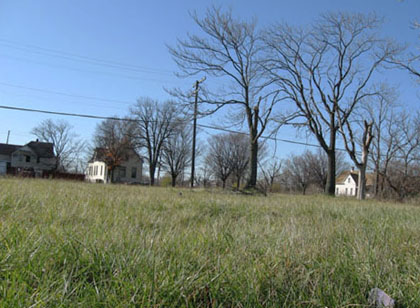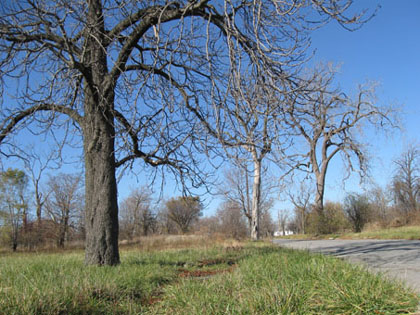 Detroit's Iconic Ruins
Right up the road was a huge Salvation Army facility. One of the few vehicles we had seen on the streets as we drove around had been a Salvation Army van. In the distance, I saw the old train station peeking up through the treetops. We decided to drive to it. We took a circuitous route around the expressways that criss-cross the area to get to the train station. The Michigan Central Railroad Station was built in 1913, replacing the previous building which was destroyed in a fire. It was at that time the tallest railroad station in the world, built to be impressive and house offices of important companies.
As we got nearer, I was again in for a shock. The whole building is enclosed with a huge wire fence and its condition is worse than I could have imagined. The windows are all punched out and grafitti is all over even the top of this tall building. It was shocking to me because I can remember when this station was still operating. When I first came to Detroit, this station was already in serious decline, but it was still open and you could still catch a train here. The building was magnificent inside, designed by the same architect who built Grand Central Terminal in NYC. The cavernous waiting room was said to be designed after Roman bathhouses. But the decline in passengers, lack of parking near the building and high cost of maintenance finally caused it to be closed in 1988. Now the building stands as a symbol of Detroit's decline, just like the huge empty, Packard plant (see my photos) on Detroit's East Side.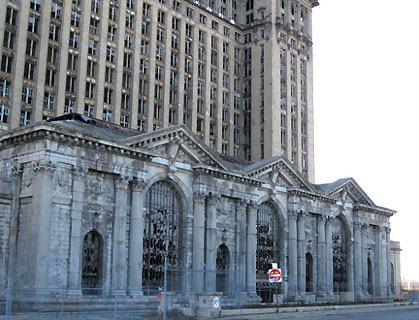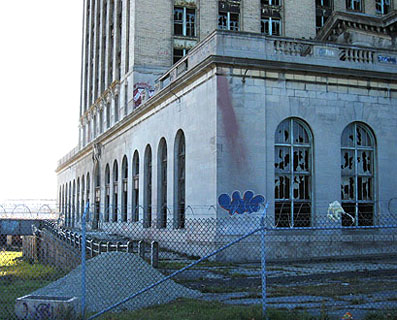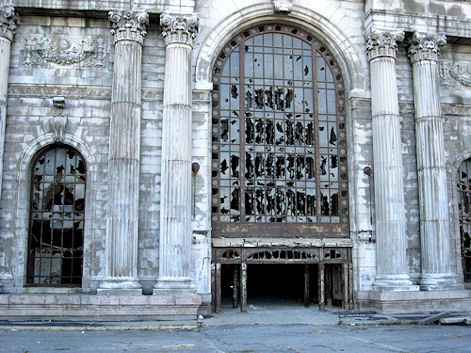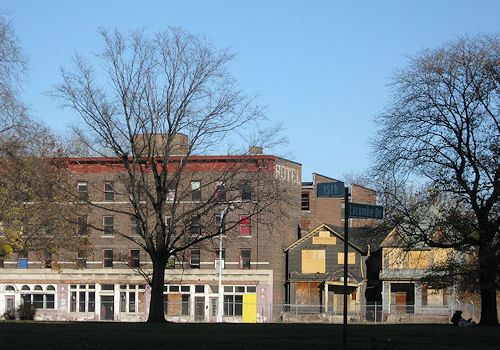 Not only is the train station in ruins, but the nearby Roosevelt Hotel is also fenced off with razor wire, along with two abandoned houses next to it. The grass is still green in Roosevelt Park, a triangle of trees and grass in front of the train station; the benches are still there, but the only person in sight is a man sleeping in a blanket on the ground. Where are the captains of industry who used to come here to travel on business? Where are the businesses that used to covet office space in the elegant train station building? They are all just ghosts of the past.
If my recollection is correct, back when I was working my ADC zone, the Roosevelt Hotel was used as a "welfare hotel," housing single men who had no means of support and had applied for "General Assistance." This was a small (very small) grant that just covered food and paid the rent for a room at old hotels that had seen better days. That pretty much described the Roosevelt Hotel, even in the 1960s. By this time, train travel for business was in decline, with more people flying or driving. Remember, the interstate highway system was built in the 1950s by the Eisenhower Administration and this old hotel predates that. According to the historical information I could find, Hotel Roosevelt was opened for business in the early 1920s and featured a restaurant and barber shop; these were located in the empty storefronts you see between the main entrance to the hotel.
Why Did it Happen?
What caused the collapse of my old ADC zone? Of course, building the Jeffries Freeway took out some of it. But did the Clinton welfare reform also play a role? The money that came into households from government checks was no doubt a stabilizing influence. When that money stopped, what did people do who used to rely on welfare money? The emphasis shifted from maintaining people in a limited lifestyle to helping them get employed. Nothing wrong with promoting employment rather than a government hand-out, but the problem is that there were not then and certainly are not now enough jobs in Detroit for everyone who needs an income. There were certainly few job prospects in that old neighborhood. Some people who lost their welfare check may have moved in with family who still had a place to live or just moved somewhere with better job prospects. Once they were gone, there was no stampede of new people to occupy the houses. Gradually, houses were abandoned.
In more recent times there has been a population shift from North back to South, and it probably began decades ago. Blacks came here for the factory jobs, beginning in the years before World War II but the jobs were already shrinking even back in the 1960s. Automation and plant closings took away lots of good jobs. It had always seemed to me that the 1960s were boom years, when jobs were plentiful; after all, I was hired to essentially be a social worker even though I had not even completed my BA degree and had taken no classes in social work. But for black people with backgrounds in the rural South, there were no such opportunities and most of the people who once inhabited this neighborhood fell into that category.
After I left my Social Services job, I worked again for the State of Michigan in their Employment Service. This was the last years of the 1960s and jobs in auto factories were scarce. Chrysler had a program that hired some of the "long-term unemployed" of the city and those jobs were highly coveted. When even a few jobs opened up, they'd be filled in the first five minutes of the working day. But unskilled jobs were disappearing. Some people stayed in the city, relying on welfare, but eventually another generation just left. With welfare gone and no jobs, there was no reason to stay.
The few people who now remain in the area of my old ADC zone have plenty of open space, lots of room to grow vegetables, and little crime. With no more houses to strip of their bricks or copper pipes, the criminals too have all departed.
Photos by Theresa Welsh and David Welsh
NOTE: I wrote this piece in November of 2009. Since then, The Catherine Ferguson Academy has closed, the front of the Roosevelt Hotel was boarded up and the boards covered with incredible art work, then a local organization began renovations of the interior. There is only one house left next to it, also heavily decorated with art work. The old train station is still there, fenced and deteriorating. However, there is a new optimism about the city, which (as I write this in November of 2014) is emerging from bankruptcy and has a new mayor, Mike Duggan. The city is getting a fresh start, shedding billions of dollars in debt and restoring regular services (trash pick-up, getting the street lights working, cracking down on strippers and vandals and getting blighted buildings demolished). As the city's motto states, the citizens hope for a better future and the city will rise from the ashes (Speramus Meliora; Resurgit Cineribus). I too am feeling the optimism. Who knows? Maybe my daughter will even move back here. Detroit is rebuilding, becoming a land of opportunity. Come see for yourself.