---

---
Revisiting the Site of the 1967 Riot
by Theresa Welsh
44 People Died I was living very close to where it started, and remember it well, living through a week of gunshot sounds, fear and disruption. Read my personal memories in this article: Detroit: From Industrial Giant to Empty Landscape. The riot left 44 people dead, more than 1000 people injured, over 7000 arrested and disrupted life in Detroit for more than a week. The National Guard, as well as federal troops, occupied the city after President Johnson went on TV to tell the nation the situation in Detroit was out of control. The National Guard parked their tanks right around the corner from where David and I, newly-weds, were living at the time. It was scary and it was unforgettable.
How it Started The facts of how the riot started are well documented. In the middle of the night on July 23, the police raided a "blind pig" (an illegal after-hours drinking establishment) and the white police began rounding up and arresting the black patrons, but were surprised by the large number of people inside; 82 people were arrested. Generally, raids on these after-hours places netted just a handful of people. This time there were more than would fit in the police paddy wagon. This place had been having a party for two soldiers who had just returned from the Viet Nam War, and that was the reason for so many people being inside. The policemen had to call for more vehicles to deliver the arrested patrons to jail. Long-standing resentment of police harassment simmered as they waited for the paddy wagons to arrive, and many resisted. As a crowd gathered in the street, a brawl began, spurred by onlookers who urged resistance.
Riot Area, Then and Now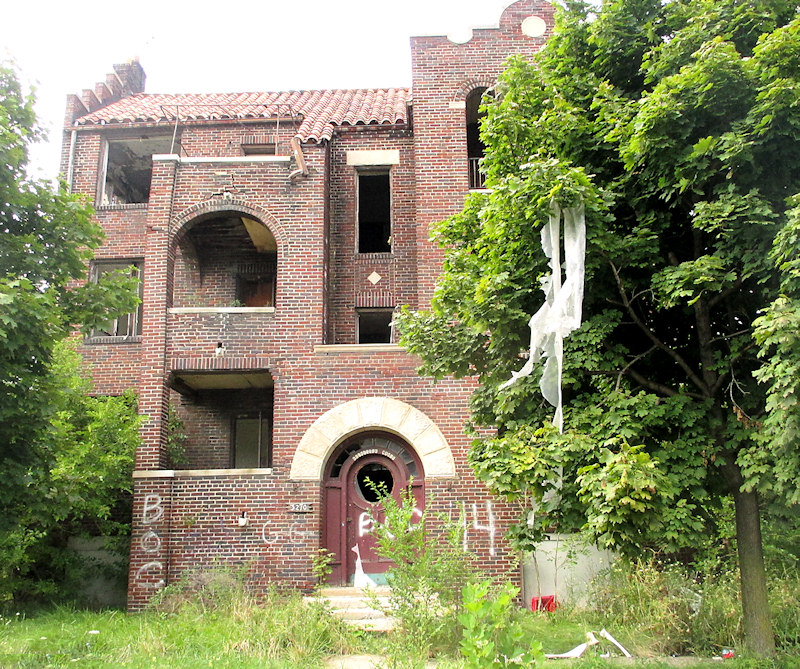 David and I, having made this area our first home (in one of two all-white apartment buildings on West Chicago near Linwood) after being married in June of 1967, have had a special interest in this part of town. We've made a number of trips back to the area to locate places we remember and to see what's happened to this place where the riot began. Housing in the city was segregated with black and white rarely sharing a neighborhood. But on West Chicago, there were two all-white buildings in an otherwise all-black neighborhood. We answered an ad which said the apartment was in the New Center area, even though it wasn't. The ad had apparently been written to attract white applicants. We liked the apartment and the rent was reasonable and we did not think much about it being in a part of town that was mostly black.
In 1967, black families were crowded into this area on the West Side (west of Woodward Avenue) along Linwood Ave and 12th St (now called Rosa Parks Blvd.) and the east-west cross streets. In a segregated city, they didn't have a lot of options. The traditional black neighborhoods (Paradise Valley and Black Bottom) on the near East Side had been urban renewed out of existence in the late 1950s and early 1960s, replaced by the Chrysler Freeway and Lafayette Park. Many black families, displaced by urban renewal, moved to this West Side area, but there were also black neighborhoods on the East Side.
In 1967, 12th Street (renamed Rosa Parks) had a thriving African-American commercial strip, with stores, night clubs, barber shops and other business establishments. The street was narrower then. But when the area, with most of the buildings in ruins, was finally rebuilt after the riot, buildings were demolished and the street was widened and made into a boulevard, with separate north and south lanes. You can see this wider section on a map, running from Grand Boulevard at the south end up to Clairmount, where the riot began.
Before the riot, 12th street (Rosa Parks) was an impressive business district, with lots of foot traffic and an active night life. David and I remember once being the only white people in the Chit Chat Lounge on 12th street, listening to Earl Van Dyke. He led the backup band you heard on many Motown records. Businesses were generally located on the ground floor of apartment buildings that lined both sides of the street.
Linwood street also had many commercial buildings and was a main thoroughfare for the residential side streets that had larger brick homes and two- or four-family flats. In the 1960s, these buildings were fully occupied and the commercial districts were bustling with people. 14th Street too had many commerical establishments. The area held a substantial population.
A Historic Location Linwood is also known as "Rev. C. L. Franklin Blvd," named for Aretha Franklin's father, who was a well-known pastor whose New Bethel Baptist Church is still located on Linwood at Philadelphia. Reverend Franklin died in 1979, the victim of house robbers who shot him while attempting to steal the antique windows in his house on nearby LaSalle Boulevard. He remained in a coma for over five years before passing away. Franklin was known for his sermons, which are still studied today.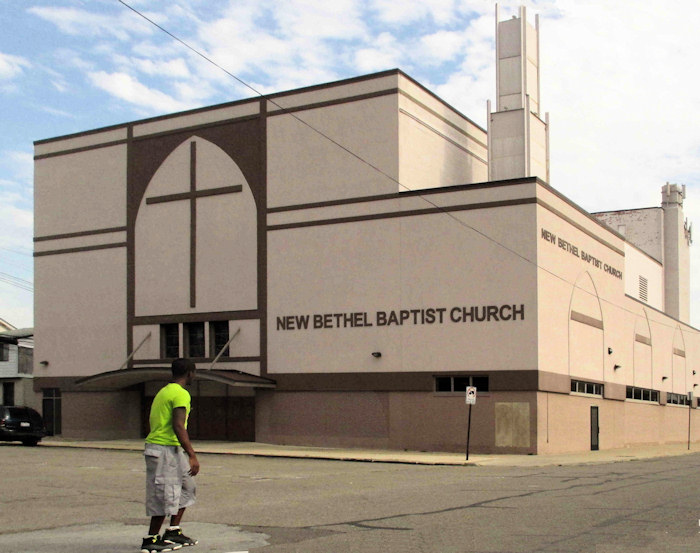 New Bethel Baptist Church is the site of a deadly incident in 1969. A meeting of the Republic of New Africa (RNA), a black militant organization, was held at the church on March 29. As the meeting was ending around midnight, two police officers, Michael Czapski and Richard Worobec, observed some of the RNA members in military-type garb who appeared to be armed gathered near the church along Linwood. They stopped to investigate, but as they did, the RNA members opened fire. Officer Czapski was shot to death and Officer Worobec was wounded. Everyone in the building was arrested. A black judge, George Crockett, opened an impromptu court at the jail building and began releasing the prisoners. This action outraged much of the community, but no one was ever convicted in the death of Officer Czapski.
Further south on Linwood is the Shrine of the Black Madonna, founded in 1953 by Rev. Albert Cleague, another black activist pastor from the civil right era. It was Rev. Cleague who invited Dr. Martin Luther King to join in the "Walk to Freedom" march in downtown Detroit. Held on June 23, 1964, the march was a success, with politicians, including Mayor Jerome Cavanaugh, and UAW leadership marching, and a crowd of about 125,000 people watching along Woodward Avenue. Dr. King gave a speech that was a preview of his famous "I Have a Dream" speech given two months later in Washington DC. By the time he addressed the massive crowd in Washngton, Dr. King had refined the language and departed from his written text to embellish the "dream" as he finished it in the shadow of the Lincoln Memorial with millions listening. The thoughts and words he expressed in Detroit had become the greatest public oration of the 20th century!
For more information about Detroit's history of segregation, see my webpage Detroit's Segregation Past and get my guidebook with more specific information on significant places in the city (see the ad below for A Guide to Post-Industrial Detroit: Unconventional Tours of an Urban Landscape).
Linwood is Still in Ruins On our tour back to the area in 2010, we began our trip down Linwood from the corner of Chicago (where we lived in 1967), driving south into the heart of the old commercial district. We found very few remaining businesses and many empty lots and even more abandoned buildings. Detroit had reached the bottom of its time of despair, when abandonment was at its peak, and no one was doing much of anything about it. Just a few years later, with the bankrupcty in 2013, election of Mike Duggan as mayor, and, finally, emergence from bankruptcy in a much stronger position, having shed billions of dollars of debt, the city began to look and feel like a more hopeful place. By 2014, we found some of the ruins were being cleared and new enterprises were popping up all over town. However, there were still plenty of empty lots and vacant buildings. Rebuilding the city is underway, but it will take time.
---
This is Linwood Street in 2010, close to where the riot started in 1967.




Buildings Along Linwood, September, 2014
12th Street – Nothing Like 1967 Heading for Rosa Parks Blvd, the former 12th Street renamed for the civil right icon who lived in Detroit until she died in 2005, you will find very little of what 12th street used to look like. 12th street has seen substantial redevelopment, including a suburban style subdivision that has only one entrance and is totally fenced, located several blocks north of Grand Boulevard. This block of new homes, with its meandering, circular drive (called "Estates Drive"), is completely surrounded by an iron fence. These newer homes are occupied and well-kept. There is also a suburban style small shopping plaza across 12th street a few blocks north of the new subdivision. You can see these features on the map above. The circular road just north of Pallister Avenue is Estates Drive and the shaded square at Blaine Street is the shopping strip.
There is little that's original of the block where the riot actually started at 12th street and Clairmount. One old building remains, but the blocks near here are mainly empty lots facing 12th street. There is a park on the northwest corner where buildings once stood. The riot began at this intersection and spread south, into the business district, the area where the street was later widened. The riot eventually enveloped the entire city.
Other parts of Rosa Parks Boulevard also suffered abandonment and, in some cases, redevelopment. A section that was mostly abandoned commercial buildings and empty lots in 2010 had by 2014 turned into a partially finished massive-sized building housing the Kirco Medical Distribution Center, a project of the Henry Ford Health System. This is located near the railroad viaduct just south of the Ford Freeway. Kirco Development's website says this is "the first component of a $500-750 mm master planned community revitalization effort of 300 acres to include new medical and educational facilities. The plan will help stimulate residential and commercial development in the area."
Sights Along Rosa Parks, 2010
Rosa Parks & Clairmount, 2014

This park is located at Clairmount and Rosa Parks, the site where the riot began in 1967. There is an abandoned building directly across Rosa Parks from the park (shown in the photo at right), but the other buildings that were here in 1967 are now gone. The park has been here for quite a few years now and adjoins the Atkinson Avenue Historical District, an area of large brick homes.
---
---
BOOKS ABOUT DETROIT Click on a book image below to go to amazon.com for more information.
<!- END strip of book images -->

The Seeker Books Home Page More Detroit photos at