by

Theresa Welsh
Apartments
| | |
| --- | --- |
| There are many vacant apartment buildings along Woodward Avenue, and some have boarded windows even while they are partially occupied. Detroit has always been mainly a city of single-family homes, with a high rate of home ownership, rather than tracts of multi-family buildings like many other big cities. But along Woodward, facing its side streets, there were once many attractive apartment buildings. Some of these have elaborate entrances off the side street, with storefronts facing Woodward. | |
Vacant Lots - Abandoned Homes
There are many vacant, weed-filled lots along Woodward Avenue where there used to be commercial buildings. Along the side streets are more empty lots and abandoned houses.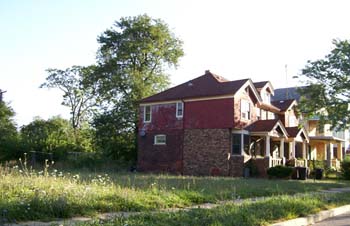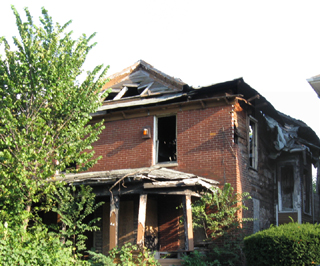 Highland Park
| | |
| --- | --- |
| Highand Park is centered on Woodward Avenue and is completely surrounded by Detroit. It was once a solid middle-class community, with many beautiful homes and buildings. It has been especially devastated by abandonment; both houses and commercial buildings are in ruins along the Woodward corridor. | |
Highland Park is the home of the original Henry Ford Model T factory and office building. The historic buildings now sit next to the "Model T Plaza," a commercial strip along Woodward Avenue.
---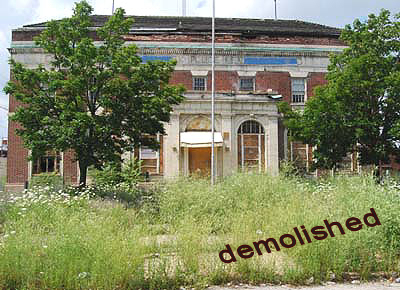 Highland Park once had an impressive, large police station in a City Center collection of municipal buildings. Its former elegance is visible here through the weeds. The city was without any police department for a number of years, patrolled only by Wayne County deputies because the city had no money. But now they have a small police force, with headquarters in a strip mall on Woodward.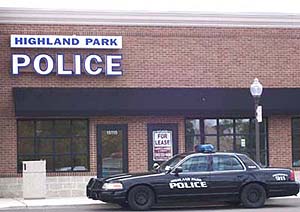 ---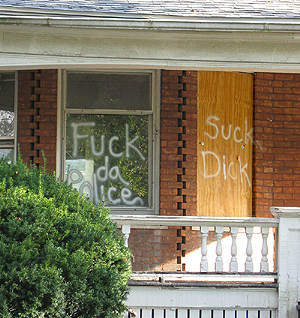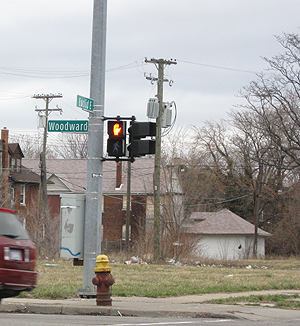 Woodward Avenue is indeed a scenic byway, with 300 years of history along its curbs.
But it's gone from boom years to bust years, and the scars of poverty and abandonment
are everywhere you look.
There are many more historic sights along Woodward and on the streets just off it. Not all of it is devastated. As you drive through the midtown area south of Grand Boulevard, you see considerable redevelopment. Many old buildings have been renovated and turned into urban housing; storefronts are filled with stores and restaurants. Detroit's comeback begins here, along historic Woodward Avenue.